Shape your story and break through writers' block.
Everyone has a story to tell, but getting it to the page isn't easy. Whatever genre you write, CHSL Cards help you shape your story or bulldoze past those tough blocks. CHSL Cards are designed to save time and vault you back into the writing process.
The first release in the StitchLeaf writers app suite, CHSL Cards, features an array of simple tools to help your writing.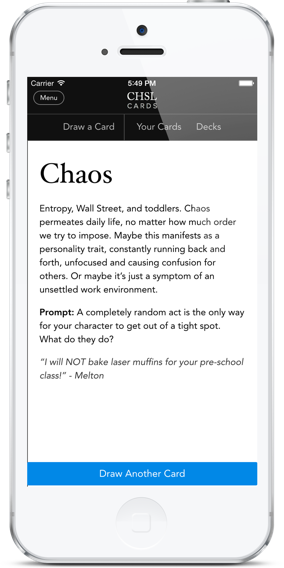 1

Free Association Word

Sometimes a single word can spark your imagination. The range of words we've chosen can help with plot, character development, or specific hurdles you face every day.
2

Thought Provoking Applications

When a word isn't enough, application can take it a step further. We've looked at different ways the Free Association Word can make a difference in your story. We aim for both broad and specific connections.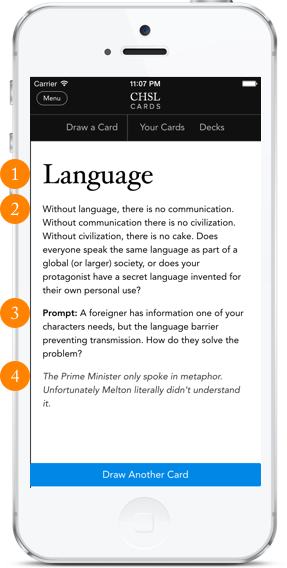 3

Direct Writing Prompts

It doesn't come much more classic than a writing prompt. We've crafted ours to further draw meaning from the Free Association Word.
4

Storytelling Flavor Text

The most abstract of them all, this small bit of text gives your mind the freedom to wander and fill in the blanks of the story.
Genres, Genres, and More Genres
Universal themes only get you so far, which is why we put a lot of emphasis on genre-specific collections of cards. The first deck, Universal I, is always free. But if you should need more specific inspiration, we have cards for writers of:
We'll be releasing more free cards from time to time. If there's a deck you want to see, send us a suggestion!
Try our app to see all available decks and boosters, no commitment, no hassle. It's also available on your Apple devices.
Decks available at launch
Universal I
This deck covers topics important to all genres. Includes 30 digital cards.
Fantasy I
If you write fantasy, or include fantastical things in your work, this is the deck for you! Dragons of writers block beware. Includes 30 digital cards.
Thriller 1
This is not about writing Michael Jackson-esque songs. But if you need to get through action, espionage, or the lightly paranormal, this is for you! Includes 30 digital cards.
Comedy Booster I
Writing comedy is tough. And while we cannot write your jokes for you, (You would end up with a bunch of Melton jokes anyway) this booster can help! Includes 8 digital cards.
Universal Booster I
Need more inspiration about universal subjects? Well, this is it! This is not about nebula and black holes, but problems facing everyone, everywhere. Includes 8 digital cards.
Want to keep up with CHSL and StitchLeaf?
Sign up below and we'll add you to our mailing list. We'll never spam you, give away, or sell your information.